About company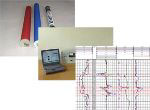 Special Geophysical Systems LLC has been operating in the market since 1996 and is one of the developers and suppliers of geophysical equipment in the Russian market. The main activity of the organization is the development, production and implementation of serial and single samples of equipment, technologies and software products, as well as the provision of services in the field of field and field geophysics, instrumentation and special electronics.
Customers are always provided with commissioning, after-sales service of equipment and training courses for users of our software products, hardware and recording systems.
Scientific and technical products and services offered to the market
autonomous and cable downhole equipment:

pressure gauges, thermometers, locators of couplings, dielcometers, radioactive logging tools
PS large-gradient logging equipment;

equipment for the study of underground tanks by ultrasonic location;
autonomous wellhead manometers;
oil-filled probes BKZ;
carrying out work to determine the geometric dimensions of underground tanks.
Professional Development
Special Geophysical Systems LLC can train operators of LAS complexes.