Pressure recorder autonomous RDA3
Purpose and scope
Autonomous pressure recorder RDA3 is designed for measuring and recording pressure in an off-line mode in technological units of oil and gas production and oil refineries, heat power and water supply enterprises.
In terms of protection against environmental influences, RDA3 are produced with the corresponding degrees of protection IP64 and IP6 7 in accordance with GOST 14254-96.
In terms of resistance to climatic influences, RDA3 corresponds to group C2 in accordance with GOST R 52931-2008; group D1 according to GOST R 52931-2008, but for operation at ambient temperatures from minus 40 to 5 0 ° C.
Declaration of Conformity TC Customs Union  EAEU N RU.AD65..15771 / 20
Functions
Pressure measurement.  
Binding of measured values ​​to time and date.
Accumulation of data in non-volatile memory.  
Data transfer to PC via USB.  
The device is completed with a control program.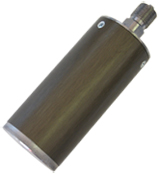 Principle of operation
Information is recorded in digital form in the internal memory of the device. Flash memory is used as memory microcircuits, which allows you to save information when the power supplies are off. The information registered in the memory of the device is read into a computer for processing and analysis. Data can be displayed on a computer screen in digital and graphic form, printed on a printer or transferred to other data processing programs.
The readings of pressure and voltage of the power supply are recorded with a specified period in the range from 1 to 255 seconds.
The capacity of the internal memory of the device provides recording of 256,000 measured pressure values.
The device allows you to set up to 8 measurement intervals. In each interval, you can set your own period and the number of measurement points.
 
Nutrition
One "C" size lithium cell.
At positive ambient temperatures, it is allowed to use alkaline batteries (batteries) with a voltage of 1.5 V , AA size . For this, the delivery set includes a replaceable battery compartment for two AA-size batteries.
Specifications
Name

Value

Upper limit of gauge pressure measurement range, MPa (depending on option)

1.6; 2.5; 4; 6; ten; sixteen; 25; 40; 60

Limits of permissible relative error in measuring excess pressure,%

± 0.25; ± 0.5; ± 1; ± 1.5

Pressure resolution,% of the upper limit of the gauge pressure measurement range, not worse

0.0015

Continuous recording time without reading memory, hours, not less:
- with a registration period of 1 s
- with a registration period of 5 s
- with a registration period of 10 s
- with a registration period of 255 s



70
350
710
18000

Time of reading information through the USB adapter, min, no more

five

Information storage time, years, not less

ten

Supply voltage, V

from 1.2 to 3.6

Estimated duration of continuous operation from one LS 26500 battery (with periodic reading and clearing the memory), days, not less:

- with a registration period of 1 s

- with a registration period of 5 s

- with a registration period of 10 s

- with a registration period of 255 s

36

163

300

1285

Ambient temperature range, ° С

from minus 40 to 70

Overall dimensions:
- diameter, mm , not more
- length, mm, not more


62
188

Weight, kg, no more

1,2

Connecting thread

М20х1.5
(or on request)
Download: